Bulging Disc and Sciatica
Causes, effects and treatment of sciatica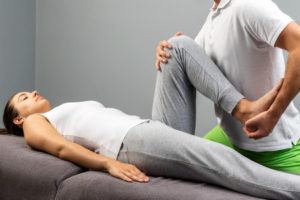 True Sciatica or Sciatic nerve pain involves the posterior aspect of the thigh, calf or foot and is caused by irritation or compression of a branch of the sciatic nerve, the main nerve into the leg. Pain may originate where the nerves pass through and emerge between the lower bones of the spine (lumbar vertebrae) or as the nerve passes through the Piriformis muscles in the pelvis.There may be numbness and weakness of the lower leg muscles and loss of reflexes.
Very frequently, pain in the leg from a variety of causes is misnamed or misdiagnosed as sciatica. These causes include referred pain from lumbar muscle spasm, ligament strain, lumbar facet or sacroiliac joint strain or arthrosis. Sciatica leg pain is often combined with low back pain. The order in which the symptoms appear may vary. Back pain often precedes leg pain and sometimes will follow. Treatments such as myofascial release, spinal and soft tissue mobilization, dry needling and/or acupuncture and cold laser all have been used successfully in treating this type of pain in our office.
The most common cause of true sciatica is a "slipped disc, prolapsed disc, twisted or bulging disc". The discs (or inter-vertebral discs) are the cushions which separate the bones of the spine (vertebrae). Bulging or herniated discs are actually a relatively common spinal injury, with thousands of people suffering from this condition. A person suffering from this condition may not even know there is anything wrong until the condition starts causing pain. Depending on the location of the herniated or bulging disc in the spine, it can cause excruciating pain, loss of range of motion, and can have other adverse effects. Such treatments such as spinal decompression and specific, gentle chiropractic treatment is an effective and popular treatment used to treat sciatica or bulging disc and its symptoms.
The majority of what is often mis-diagnosed as 'sciatica' is pain referred to various parts of the leg from locked or inflamed spinal facet joints, sacroiliac joints, muscle spasm or inflamed ligaments. When this is indicated a combination of spinal manipulation, cold laser, and spinal decompression is quite successful in addressing this complaint.
At the Spine and Disc Center of Arizona, we use of wide variety of treatments to help you with your sciatic pain so let us figure out what the cause of your sciatic pain is and we will either fix it or make the appropriate referral so you get your complaint resolved.
Our Location:
690 East Warner Road, Suite 113
Gilbert, AZ 85296
CLINIC DETAILS
Gilbert Chiropractor
690 East Warner Road #113, Gilbert, AZ 85296, USA
Hours:
Mon:

09

:00AM – 1:00 PM      3PM – 07:00PM
Tue:

   09

:00AM – 1:00PM       3PM – 07:00PM
Wed:

09

:00AM – 1:00PM       3PM – 07:00PM
Thu: 

09

:00AM – 1:00PM        3PM – 07:00PM
Fri:    09:00AM – 12:00PM      Admin Hours Only
Sat – Sun: Closed
What Others are Saying