Massage Therapy at Spine and Disc Center of Arizona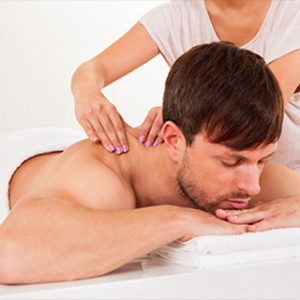 Manual therapies have always held considerable therapeutic potential. Today many people associate massage with relaxation and stress relief, and rightly so. But therapeutic massage can also convey some major benefits for individuals who are recovering from an injury or dealing with chronic health problems, from accelerated healing to drug-free relief of pain and inflammation. That's why your Gilbert Chiropractor here at Spine and Disc Center of Arizona may prescribe massage therapy alongside other forms of conservative care to help you regain both physical function and a higher quality of life.
Types of Massage Therapy and Their Benefits
There are two primary categories of massage therapy, each with its own specific applications. Wellness massage is designed to promote everyday comfort, relieve tension and support your body's natural processes. The gentle, relaxing technique known as Swedish massage tends to figure prominently in this type of preventative care. Wellness massage loosens tight muscles to help prevent emotional stress from turning into physical stress — which in turn can help normalize blood pressure and other vital signs. It also optimizes circulation and lymph flow to keep your immune response in good working order. As long as we determine that massage is safe for you, there are no specific requirements or pre-qualifications needed to receive this "health boost."
Therapeutic massage is usually prescribed for our Gilbert patients who are suffering from a musculoskeletal injury or chronic health problem. This condition must be diagnosed by your chiropractor or referring physician so we can administer the appropriate therapeutic massage technique for your specific needs. (Your chiropractor will also administer a questionnaire regarding your symptoms, medical history and health goals. so we can personalize your care.) Therapeutic massage can help you combat both chronic pain conditions. We also prescribe it for:
Overuse/strain injuries such as carpal tunnel syndrome and other forms of tendonitis
Back pain
Lymphedema
TMJ
Muscle spasms
Osteoarthritis and other forms of joint pain
Respiratory problems
Prenatal aches, pains and swelling
Sports injuries
Motor vehicle or other accident injuries
Massage Therapy FAQ's
Where does the therapy take place?
We provide massage therapy in a warm, comfortable and quiet room designed to help you relax. You will lie on a table designed especially for your comfort.
What do I wear during the massage?
Depending on the technique required for your condition, you may or may not need to undress. A full body massage requires complete undress, although you may choose to wear underwear. Our therapist will cover all areas with a sheet and blanket except for the area receiving the massage.
What do I do during treatment?
Get comfortable and relax. Our therapist will adjust your body position or ask you to move as necessary. Otherwise, change your position as needed to remain comfortable.
How will the massage feel?
There are several types of therapeutic massage techniques and each feels a little different. Some types of therapeutic massages use an invigorating form of Swedish massage that relaxes deep tissue. Others use light motions. As you relax, the therapist will gradually increase areas to soothe specific areas of muscular tension. Your therapist may use oil or lotion in some cases.
Will these oils or lotions cause skin breakouts?
Our therapists use hypoallergenic massage oils and lotions to reduce the risk for skin reactions.
Is a therapeutic massage always appropriate?
Therapeutic massage is not always and appropriate treatment and it may be an inappropriate treatment if you have certain medical conditions. Our therapist can help you decide if massage therapy is right for you.
Is therapeutic massage helpful for chiropractic treatment?
Yes, therapeutic massage helps relax muscles to optimize the effects of chiropractic care.
How will I feel after the massage therapy treatment?
If you are like most people, you will feel very relaxed after massage therapy. You might enjoy freedom from aches and pains resulting from tension or repetitive activity. After a period of relaxation, you may experience increased energy, heightened awareness and greater productivity that can potentially last for days.
Who should I call for massage therapy?
Make an appointment with Spine and Disc Center of Arizona by calling us today at 480-633-3399 or scheduling here on our website or download our app onto your smartphone. We serve patients in Gilbert, Chandler, Mesa, Tempe, Phoenix and throughout the East Valley!
massage gilbert az
Voted Top 3 Chiropractors in Gilbert
Schedule Your Appointment Today
(480) 633-3399
Our Location:
690 East Warner Road, Suite 113
Gilbert, AZ 85296
CLINIC DETAILS
Gilbert Chiropractor
690 East Warner Road #113, Gilbert, AZ 85296, USA
Hours:
Monday - 9am - 1pm and 3pm - 7pm
Tuesday - 11am - 5pm
Wednesday - 11am - 5pm
Thursday -   9am - 1pm and 3pm - 7pm
What Others are Saying