Help for Neck Pain – Gilbert, AZ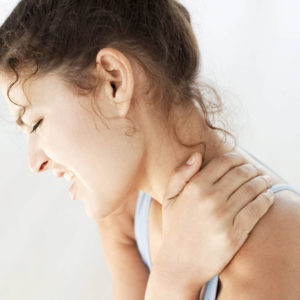 Neck pain may come and go or occur suddenly. It can vary from mild discomfort to excruciating pain and may also radiate down into your shoulders, arm or up to your head.
Causes of Neck Pain:
muscular strains and sprains
trigger points or knots in muscles
disc injuries
joint dysfunction
Poor posture
Arthritis
Sleeping incorrectly
Trauma such as an auto accident or a fall
We address the varying conditions of the neck in many different ways and there is no cookie cutter schedule for any one patient. Personally, I think this only makes sense because if someone has a muscle strain they should be treated differently than someone with a disc issue, right? We think so too.
So, in our office expect individualized care and know that we have the treatments available such as spinal adjustments, spinal decompression, cold laser, myofascial release (massage), dry needling, acupuncture, corrective exercises so we have the right tool for the job to get you fixed and out of pain. These treatments enable us to deal with a wide variety of neck problems caused by such things as auto accident, sports injuries, falls, work injuries, repetitive stress injuries, poor posture and the list goes on.
Our Location:
690 East Warner Road, Suite 113
Gilbert, AZ 85296
CLINIC DETAILS
Gilbert Chiropractor
690 East Warner Road #113, Gilbert, AZ 85296, USA
Hours:
Mon:

09

:00AM – 1:00 PM      3PM – 07:00PM
Tue:

   09

:00AM – 1:00PM       3PM – 07:00PM
Wed:

09

:00AM – 1:00PM       3PM – 07:00PM
Thu: 

09

:00AM – 1:00PM        3PM – 07:00PM
Fri:    09:00AM – 12:00PM      Admin Hours Only
Sat – Sun: Closed
What Others are Saying